Daily Art Raffle
The art raffle provides each Feria-goer an opportunity to take home a special piece of art and support a charity at the same time. You can purchase tickets for the raffle all day - sellers will be walking throughout the Feria or at the Raffle Booth.
Drawings are held each afternoon and the winner's names will be posted at the Raffle Booth. You do not have to be present to win AND if you do not win Friday, your tickets are returned to the drawing jar for the Saturday raffle and so forth, giving you three opportunities to win.
Who receives the money from the Raffle?
Beginning in 2016, the Feria partnered with Operation Feed of San Juan Cosalá. After Cruz Roja stepped down as the Feria's partner in the Raffle, Operation Feed stepped up. The Feria is proud to have this amazing organization working with us this year.
Who is Operation Feed?
A weekly bag of food is dispensed to 96 families living in poverty in San Juan Cosalá. Their situations are first reviewed to ensure there is a need, and that they are willing to work at changing their lives. In the program for four years, after that time, hopefully Operation Feed will have helped the family find a way to bring new income into the home. Below are just a few of Operation Feed's projects that help turn people's lives around: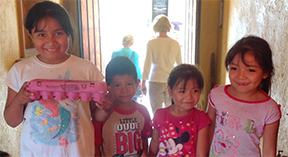 Despensas: The despensa is so very important to our families. Knowing that they can count on the despensa items, allows families to use funds they would have spent for food on school supplies, medicine, or even some meat for a special meal. What are the costs for one family for a four-week month and what exactly is in each despensa?
One family for 4 weeks (one despensa per week)
Bottle of oil $44 pesos
3 small bags of pasta $27 pesos
Beans, Rice, Soy or Oats $106 pesos
Chorizo (twice a month) $44 pesos
Vegetables (twice a month) $23 pesos
Milk $33 pesos (twice a month for families with small children)
4 Dozen eggs $108 pesos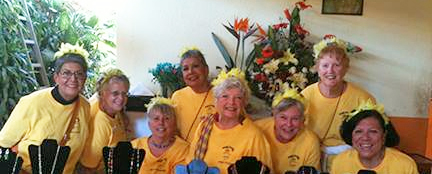 All the despensas are paid for by the Egg Ladies who come to Viva Mexico Restaurant and crate up the dozen eggs that go to each family. By increasing the number of women involved and having a $200 peso per month contribution, Operation Feed is able to provide each family with a dozen eggs every week. The smiles and thanks we get from our families shows us that this is a very welcome addition for their meal preparations. It takes about 40 minutes to crate up 184 dozen eggs and then the group supports Agustin (owner of the restaurant) by enjoying a delicious lunch and margaritas at Viva Mexico. It's a terrific way to contribute to a very worthy cause.
YOU can sponsor a family for a month with a donation of $1,000 pesos or $50 USD. If you're interested in learning more contact jeanniewinton@rocketmail.com.
Pre-School English Class is a Success: If you want to help a community grow, make sure that you put a lot of effort into the mothers and young children. The Mexican education system believes this and has for years invested in preschool programs. The government chooses a few mothers who have the skills necessary to organize and manage a once-a-week program for parents and their young children. The focus is to give the parents ideas and skills for working throughout the week with their young children.
Calculators: Grade 7: Through the generosity of a few Operation Feed benefactors, we have been able to ensure that any of our children who were entering grade 7 had a new calculator. This saves each family approximately $80 pesos. Since a calculator is a must for this grade, it also meant that our children didn't fall behind in mathematics. We were given four extra calculators, and these were donated to the local public secondary school for other 7th graders who couldn't afford one.
Clothing Drive: The clothing drive is very important to our families. As it begins to get cold, children have outgrown last year's winter clothes, and new babies have been born. Some special items that you might consider donating are: towels and blankets, jewelry, purses, and special holiday items that would make season a little brighter. If you are coming down for the winter, please consider bringing some clothing to Operation Feed.
What are the raffle prizes?
All artists attending Feria Maestros del Arte are asked to donate one (or more) special piece/s of their work for the raffle. Many of the prizes are worth hundreds of dollars.
Shown below are examples of raffle prizes from past Ferias.